Franchise Marketing that just works!
JDOG Junk Removal franchise generated 1,000 Franchise Leads In 90 Days using the Viqtory Military Advertising Platform. Generate more qualified leads with Viqtory.
JDOG's Business Objective and Challenge
JDOG, a veteran and military family only company is one of the nation's fastest growing junk removal franchises for residential, commercial, retail and construction customers. JDOG is on a mission to empower veteran business ownership and they asked VIQTORY to deploy a national brand awareness campaign aimed at launching new franchises with veterans in key markets.
Founded in 2001 by Navy veterans, VIQTORY established itself as the premier Military Marketing Agency focusing on employment and entrepreneurship opportunities. Since then, VIQTORY has built itself into a trusted leader in the military veteran recruitment, with unprecedented data-based insights into veteran interests, skills and entrepreneurship behaviors. VIQTORY'S rich first-party data set, incorporating survey results, lookalike audiences, data overlays and predictive models built by their in-house data scientists and digital strategists helps their clients reach millions of potentially interested U.S. veterans and military spouses.
Powerful Social Recruitment Marketing
VIQTORY helped JDOG reach veterans seeking franchise and business opportunities with a strong message-to-market
match and first-party data targeting, and audience lookalikes. While many clients often bring their own creative,
VIQTORY's internal creative team has 40 combined years of military- and veteran-specific design experience, which is
critical to a successful campaign that hinges on delivering the right message at the right time to the right audience
segment. To ensure campaigns stay up to date, VIQTORY constantly split tests creatives and makes changes in real-time.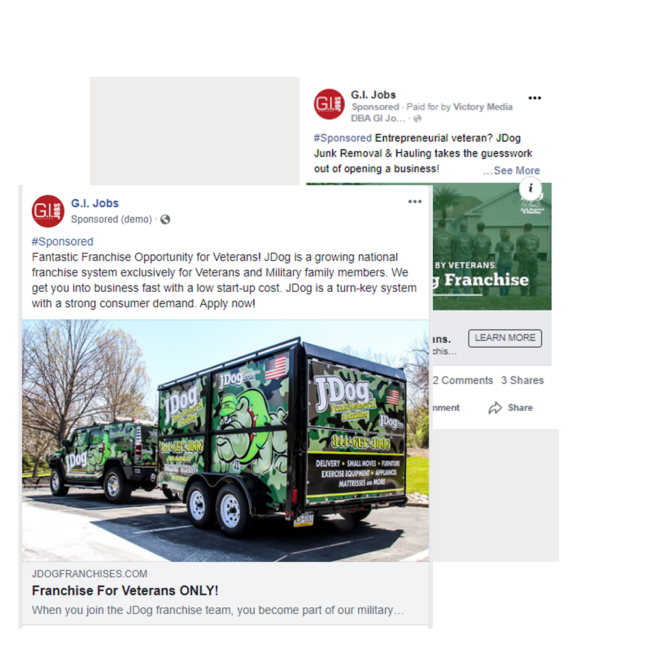 VIQTORY tailored a campaign to JDOG's unique recruiting needs. Utilizing our laser focused targeting abilities across social platforms and the rest of the internet, we were able to generate significant interest in JDOG's franchising opportunities amongst veterans.
Once veterans have taken action on an ad that is part of a programmatic campaign, it is important to stay top of mind with those individuals. VIQTORY's advanced retargeting abilities allowed JDOG to reach veterans who have already engaged with their digital content and keep them engaged, ultimately leading to more veteran leads.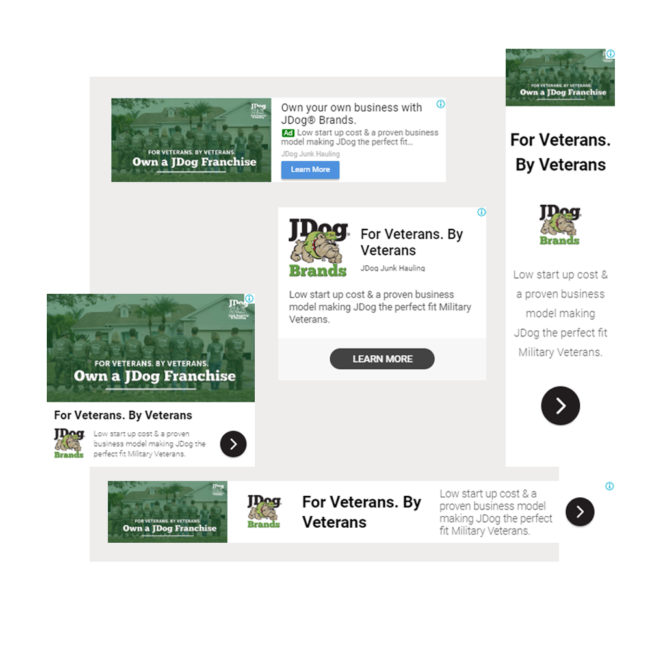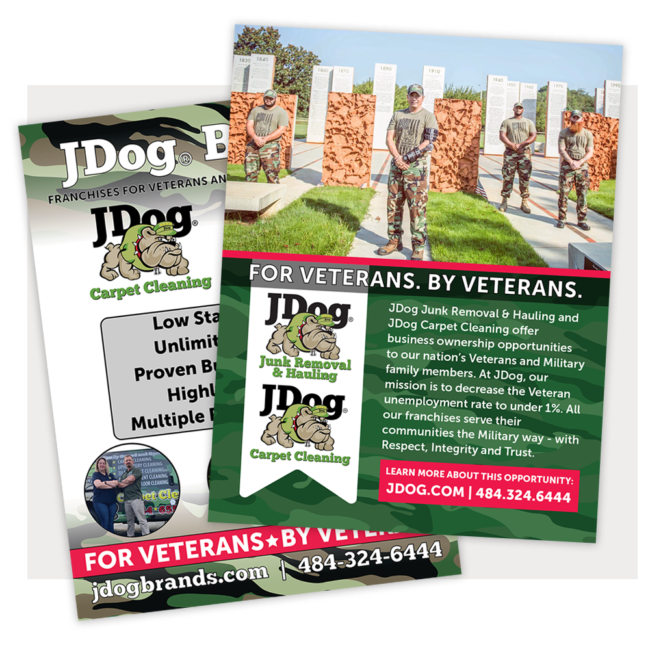 JDOG placed full page ads in GI Jobs magazine to build brand awareness within the military community. With thousands of distribution points worldwide, these ads in GI Jobs magazine put JDOG top of mind for military service-members and veterans.
VIQTORY sent out an "E-Blast" on behalf of JDOG to GI Jobs' mailing list of 55,000 veterans and service-members. The email included JDOG branding and a customized recruitment message that emphasized why a veteran would be interested in owning a JDOG franchise.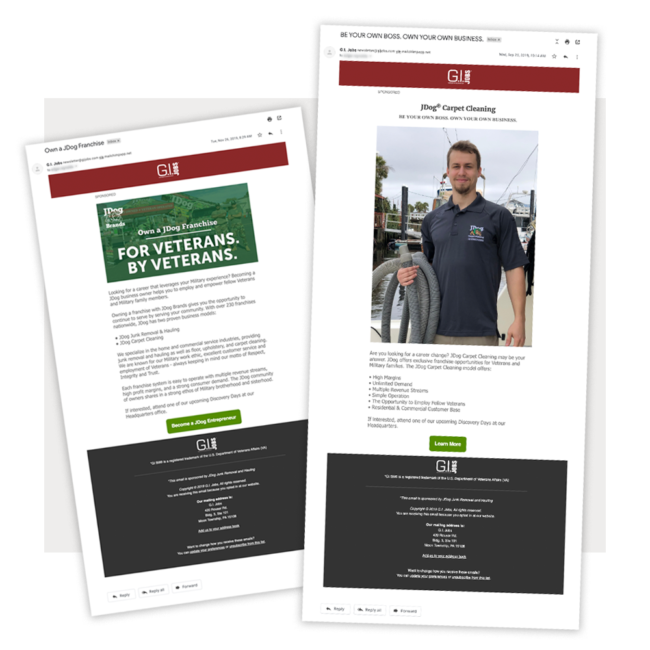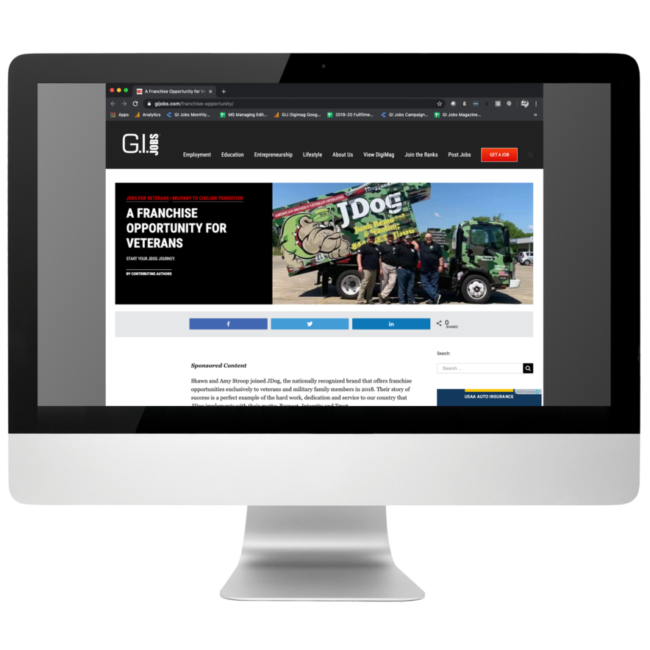 A piece of content created specifically for JDOG was placed on GIjobs.com, highlighting their franchising opportunities and generating interest in them from the 1.6 million individuals that visit the site each year. JDOG branding was also featured on the franchising section of GIjobs.com, where any visitors interested in entrepreneurship could learn about their opportunities.
*results may vary depending on client campaign objectives, goals and strategy
Sell More Franchises To Qualified Franchisee's
Our team of experts drive serious results using our proprietary data. We've increased New franchise sales for some of America's leading companies. If you'd like to learn more about how we can help your company achieve results like the ones above, reach out to us. We'd be happy to develop a plan for you!