Recruitment Marketing that just works!
A billion dollar defense contractor in aviations, intel and logistics uses VIQTORY to drastically scale their veterans recruitment funnel using advanced social media recruitment targeting.
DynCorp's Business Objective and Challenge
DynCorp supports all branches of the U.S. Armed Forces, government agencies, and state and local government entities across the world. No one is better at supporting the mobilization, operational readiness, sustainment, and development that is needed to make a better tomorrow. From friendly environments to hostile conditions, DynCorp teams use their real-world experience and intelligent, innovative planning to support each customer's distinct mission. DynCorp recognizes that ex-military are the key drivers for talent acquisition but reaching them in the masses became an ongoing and expensive challenge. That's where VIQTORY came in!
VIQTORY's rich first-party data set, incorporating survey results, lookalike audiences, data overlays, predictive models built by their in-house data scientists and digital strategists helps their clients reach millions of potentially interested U.S. veterans and military spouses.
Powerful Social Recruitment Marketing
VIQTORY developed a refined, but rapid approach to campaign execution. First, VIQTORY helped DynCorp define who their target audience was through an audience discovery call. Numerous military-centric audience segments were considered such as age, branch of military, rank, education, location, skillsets and behavior. Once a customized audience was identified, VIQTORY moved to market messaging. More than 15 years of publishing, advertising and engagement, combined with first-party data, provide VIQTORY clients with deep insights into the needs, interests and behavior of the veteran community that DynCorp leveraged. VIQTORY helped DynCorp reach veterans seeking aviation opportunities with a strong message-to-market match and first-party data targeting, and audience lookalikes.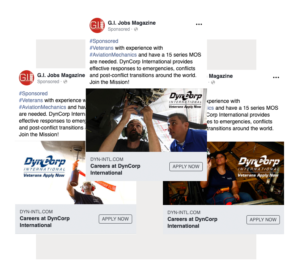 VIQTORY tailored a campaign to DynCorp's unique recruiting needs. Utilizing our laser focused targeting abilities across social platforms and the rest of the internet, we were able to generate significant interest in DynCorp's open positions amongst veterans.
GIjobs.com is the authoritative resource for veterans in transition. A digital profile on the website gave DynCorp a presence within this motivated audience and allowed them to take advantage of GI Jobs' 18 years of experience in the veteran space.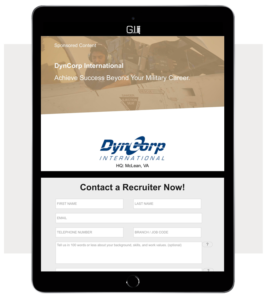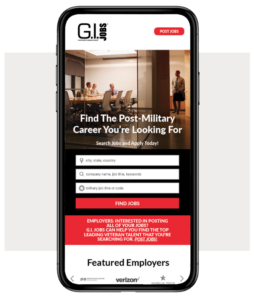 With unlimited job board listings, DynCorp was able to put their jobs in front of our veteran audience in an environment where people are actively searching for their next big opportunity. With advanced search features for veterans, DynCorp's jobs were shown to the veterans who were most likely to be a good fit for them.
Once veterans have taken action on an ad that is part of a programmatic campaign, it is important to stay top of mind with those individuals. VIQTORY's advanced retargeting abilities allowed DynCorp to reach veterans who have already engaged with their digital content and keep them engaged, ultimately leading to more veteran applications.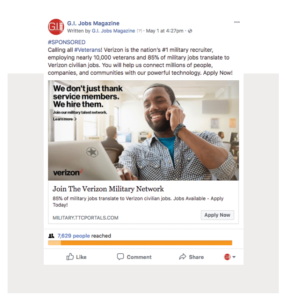 *results may vary depending on client campaign objectives, goals and strategy
Supercharge Your Recruitment Strategy
We've developed recruitment marketing campaigns for some of America's most iconic companies. If you'd like to learn more about how we can help your company achieve results like the ones above, reach out to us. We'd be happy to develop a plan for you!