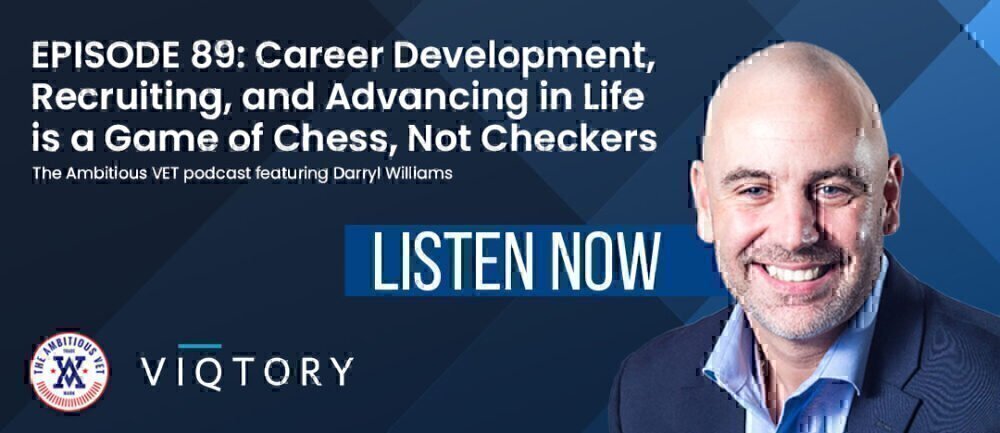 89: Career Development, Recruiting, and Advancing in Life is a Game of Chess Not Checkers with Darryl Williams
Jun 26, 2020
With the world being slowed down economically and some of the biggest industries being hit hard, thus limiting resources and opportunities for us to advance and grow-as Ambitious VETs- it's still not an excuse to sit on the couch and wait for things to change. Are you ready to hear a message from a retired Army 1stSgt who has been there and knows what it is like to have to reinvent yourself time after time to stay relevant within the marketplace to produce value? Don't miss this episode as we dive into topics like- talent acquisition with veterans and mil-spouses, recruiting for business and institutions, LinkedIn personal branding, and much more!
Once the interview begins:
0:00- 7:38 Min: How trying to identity parallels between the military and the civilian culture is not the answer- and THE ONE THING that should be the focus for having a successful career path post military.
7:38- 11:33 Min: Darryl's personal philosophy on how to create open communication loops within your roles in life and how to fuel your continuous improvement mindset everyday.
11:33- 19:52 Min: Going from diamond and parade rest to no one cares and having to suck up pride to reinvent himself.
19:52- 24:30 Min: What you are exposing when you aren't willing to learn how to brand yourself and properly leverage LinkedIn as a career or life advancement tool.
24:30- 30:58 Min: What industries were hit hard because of the crisis, what are some emerging booming industries, and what are some business models you can take advantage of so you are not put in a furlough position again.
30:58- 36:40 Min: How G.I. Jobs and Mil-Spouse are providing innovative solutions to connect veterans and mil-spouses to opportunities that fulfill them.
36:40- END: Darryl's three #GoldenGrenades:
1) Find your purpose- find out what you need to be doing tomorrow.
2) Complacency kills- don't get comfortable- the world will move without you.
3) Less than 1% of population volunteered to serve- don't forget who you are.
Learn more about Darryl, Viqtory, G.I. Jobs, Military Spouse, and everything else he and the team are doing here:
LinkedIn
Viqtory Website
G.I. Jobs Website
Military Spouse Website
Hot Jobs GI Jobs Website
Originally published on the Ambitious VET podcast.