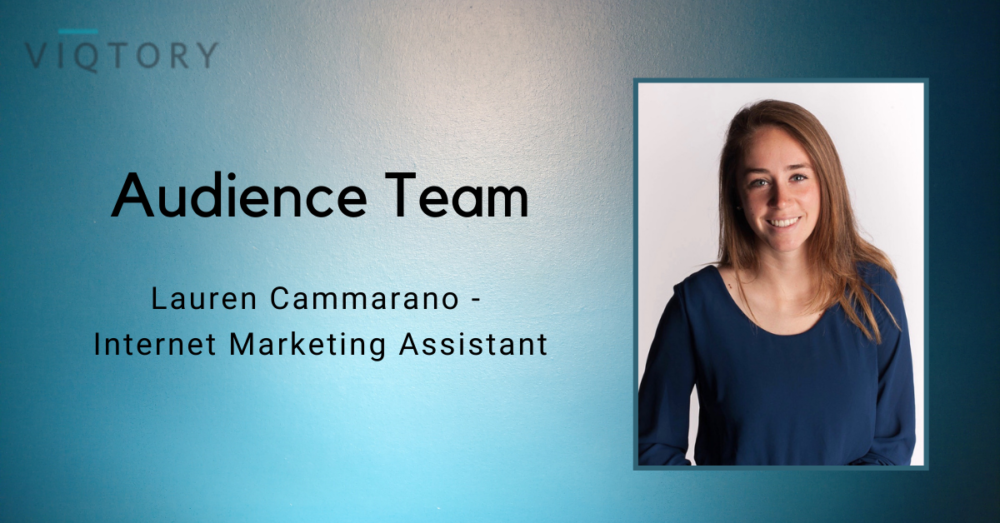 At VIQTORY, we put a high value on company culture, and that starts with our employees. Get to know our team in this month's Employee Spotlight. 20 Questions With Lauren Cammarano, Internet Marketing Assistant.
How long have you worked at VIQTORY?
Just over a month.
What is your job title?
Internet Marketing Assistant.
Briefly describe your primary responsibilities within that role. (What does a typical day look like?)
Helping other people out with projects, working on social media posts, and helping to update past articles.
What is it you enjoy most about your job?
Being able to work in social media and internet marketing. I love being able to present our organization to those who can use our services in their daily lives.
What is your favorite memory from working at VIQTORY?
It hasn't been long since I started, but I've enjoyed being able to get to know everyone that I'm working alongside. It's been a lot of fun.
Where are you from?
Northborough, Massachusetts which is about 45 minutes directly West of Boston.
Where did you go to school and what was your major?
I went to Taylor University and studied Marketing, Systems. Systems is a brief understanding of computer science and how to use computer science within the business world.
What was your first job?
I was a cashier at Dick's Sporting Goods in high school.
How do you spend your time outside of the office?
Weight-lifting, playing soccer, reading, or watching movies.
What are your favorite sports teams?
The New England Patriots and Boston Bruins.
Who are your 3 favorite bands/artists?
Jon Bellion, Lecrae, and Dean Lewis.
What is your favorite food?
Chicken Pot Pie.
If you could have dinner with 3 people from history who would they be?
C.S. Lewis, Billy Graham, Ravi Zacharias.
What is the last book you read?
The Common Rule by Justin Whitmel Earley.
What is your favorite place to travel?
Uganda or Ecuador but I'd want to visit Australia.
Do you have any pets?
One dog that's a boxer-mix. Her name is Bailey and my family got her from a local shelter about 6 years ago.
What's the best concert you've ever been to?
Jon Bellion during the summer of 2019.
If you could only watch one movie for the rest of your life what would it be?
Miracle, without question.
Tea or coffee?
Coffee, 100%.
What ranks first on your, "Bucket List?"
Skydiving for sure!