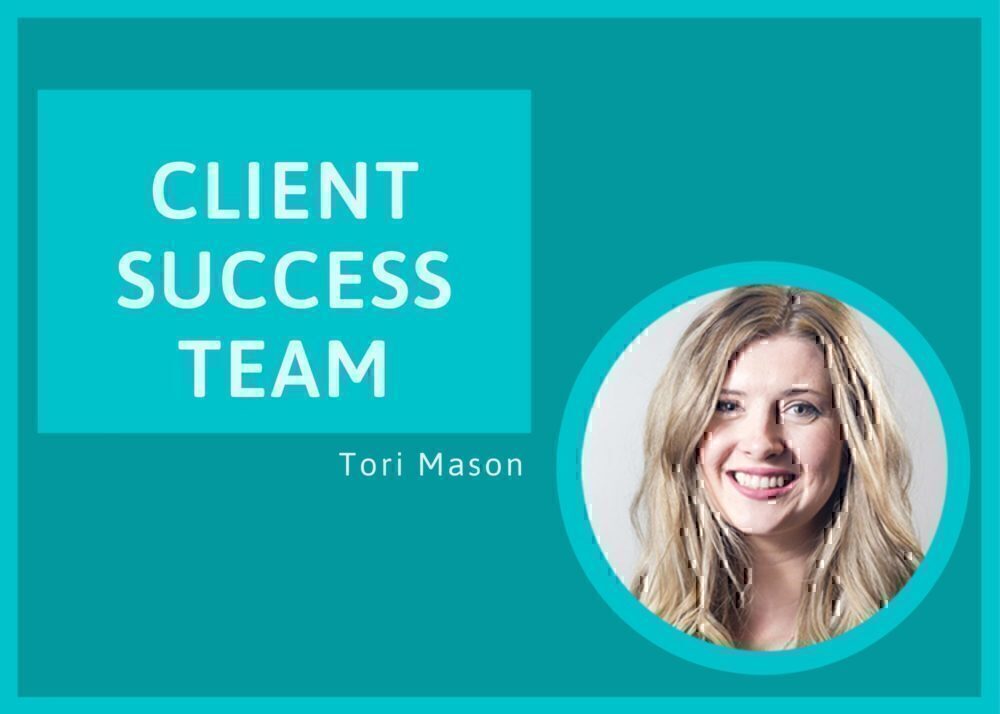 At VIQTORY, we put a high value on company culture, and that starts with our employees. Get to know our team in this month's Employee Spotlight. 20 Questions With Tori Mason – Manager of Client Success
How long have you worked at VIQTORY?
It will be three years on September 11.
What is your job title?
Manager of Client Success
Briefly describe your primary responsibilities within that role. (What does a typical day look like?)
Client Success works heavily with all of the departments to fulfill products for our current clients, so I work closely with Ad Ops and the Sales Director to make sure all of our processes are aligned. I work with the team to make sure they hit their goal of 90% on time case completion (tickets closed within the target hours.)
It's my responsibility to make sure the team has all the resources and training they need to complete their tasks at hand. Also, I need to continue finding ways that will alleviate any pain points. In 2019, we found that the ticketing system was great for tracking but tedious and time-consuming, so we worked with IT to automate some of those tasks and emails through workflows in HubSpot.
What is it you enjoy most about your job?
The challenges. When a client has a problem that we haven't addressed before and maybe needs more research or when the team comes together to try to start a new process and we have to figure out what works best. I just love trying to take on new problems.
What is your favorite memory from working at VIQTORY?
Valen-Fries-Day/National Fry Day. I thought it would be a fun event for the office to bring a bunch of toppings and all kinds of french fries to have a French Fry feast in 2018. The first year was epic. We had a few air-fryers, so we had waffle fries, regular fries, and fries from a local BBQ shop. People also brought buffalo chicken dip, homemade poutine, guacamole, cheese, etc. I could go on because it was so much fun and delicious. We are lucky to have amazing cooks in our office for these potlucks!
Where are you from?
Wheeling, WV
Where did you go to school and what was your major?
I have a BA in English from Wake Forest University.
What was your first job?
Marketing Assistant
How do you spend your time outside of the office?
Before work, I go to the gym. Afterward, I binge a lot of drama series. Recently I finished Downton Abbey. When I got into my current role, I wanted to make sure I didn't lose my writing skills, so I started a blog that's all about brunch. Needless to say, I spend most of my weekends brunching.
What are your favorite sports teams?
I'm not crazy about sports but as a Yinzer I like the Steelers, Penguins, and Pirates.
Who are your 3 favorite bands/artists?
Currently The Chainsmokers, Drake, and "mumble rap." I just listen to the Rap Caviar playlist on Spotify.
What is your favorite food?
It's hard to choose but I'm obsessed with gnocchi with a white sauce and sage.
If you could have dinner with 3 people from history who would they be?
Lucille Ball, Audrey Hepburn, William Shakespeare (if you believe it was just one person)
What is the last book you read?
The Night Circus by Erin Morgenstern
What is your favorite place to travel?
Everywhere! My favorite so far is Mykonos in Greece. The Greek islands are stunning.
Do you have any pets?
Technically no. I had a cat but she peed all over my apartment, so, sadly, I had to send her to live with my parents.
What's the best concert you've ever been to?
So, there used to be an insane country music festival on a farm in Ohio. It was a four-day event with mostly big headliners – Brad Paisley, Taylor Swift (when she was country), Toby Keith, Florida Georgia Line, etc. The concert had just a really fun atmosphere.
If you could only watch one movie for the rest of your life what would it be?
Probably the Breakfast Club.
Tea or coffee?
Coffee as black as my soul.
What ranks first on your, "Bucket List?"
Travel to at least 20 countries.