G.I. Jobs App has been released on the App Store and on Google Play.
This is pretty exciting as the mobile application is available for anyone to download and easily engage with G.I. Jobs – one of the top publication resources for transitioning service members and the entire military community.
For over 20 years, G.I. Jobs has been educating the military community on employment, education, and business ownership opportunities. And, now it's at your digital fingertips.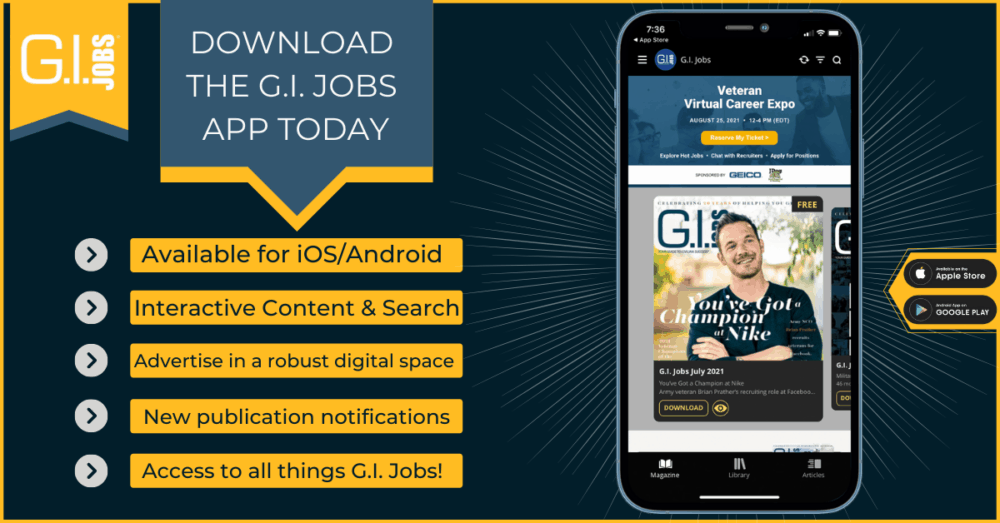 Publication Archives: Users can explore the magazine for employment tips, industry intel, interviews and more. They'll find opportunities for veterans in the publications and be able to click and connect with you. 
Event News & Registration Access: Veterans can register for upcoming events directly through the G.I. Jobs app. The Virtual Career Expo and Get Hired Workshop are currently highlighted. 
Articles, Tips, and More: Discover information on employment tips, Military Friendly® Employers, Schools and veteran-friendly franchises. The articles section includes content that helps the military community with everything from learning who has the best track record on helping veterans to practical advice on job hunting.
When you're on the go – G.I. Jobs is right there with you. 
Founded on the belief that veterans are better for their service, VIQTORY® is the leading marketing firm connecting the military community to civilian opportunity. Its hundreds of clients include Fortune 1000 companies, government agencies, and colleges that use VIQTORY®'s marketing products to promote their employment, education, and entrepreneurship opportunities to the nation's military community of veterans, military spouses, and transitioning service members. VIQTORY® is a VA and NaVOBA certified service-disabled, veteran-owned small business founded in 2001 by three Navy veterans. Its media brands include G.I. Jobs®, Military Spouse®, and Military Friendly®. VIQTORY® offers digital and print advertising in its own media as well as managed programmatic advertising, which enables it to reach its audience on virtually any platform and any device, at the precise location and at the right time.
For details visit viqtory.com.