You've earned industry-wide recognition as a Military Friendly® School, which is a huge honor. Veterans and active duty service members pursuing their education look to the Military Friendly® list as a resource to search for schools with great programs for the military.
Why participate in the Military Friendly® survey:

Showcase your impact on military students

Spotlight your programs

Stand out against competitors

Woo potential students

Highlight your accomplishments
Your team took time answering all the questions on the survey, we evaluated your responses against data on thousands of other institutions, and the results are in. Congratulations on your Military Friendly® designation! Now that you've earned the designation, how do you leverage it in your recruitment marketing?
Here are 6 ways that you can leverage your designations and drive more leads from the military community.
1. Save Your Testimonials
After you've announced the news, people will share their congratulations and some will provide positive feedback about their experience at your school. You can then use those comments to create testimonial graphics to share at a later time on social media. Veterans trust their peers above all, so sharing testimonials will add to your school's credibility. It might even encourage them to move forward with their application.
2. Add the Designation to Your Website
If you have a designated military student page, make sure you include your Military Friendly® Schools Logo. This adds credibility to your page. The designation shows that your school's programs meet the Military Friendly® standards. Download your Military Friendly® logo here.
3. Share the Military Friendly® Award on social media.
Share a press release on your school's Military Friendly® status and share it on your social media channels. Being a Military Friendly® school is no minor thing. Shout it from the rooftops.
4. Add your Military Friendly® designation to Marketing Materials.
If you're running ads to the military audience, add the well-recognized Military Friendly® logo to your veteran marketing graphics. It's an easy way to show veterans that you value them.
Also, the Military Friendly® designation is a well-respected award program in the military and school community. Having the badge in your marketing material will enhance the veteran's trust in your institution.
5. Include Your Military Friendly® Status in Your PPC Copy
If you're running search ads for your student recruitment marketing campaign, adding your Military Friendly® Award can set your school apart and get the veterans attention when they're searching for schools to use their GI Bill.
6. Reserve ad space in G.I. Jobs Magazine
Reserve ad space in the school-focused G.I. Jobs October issue where we share the complete list of 2022-23 Military Friendly® Schools. This trusted veteran resource is shared with over 400,000 veterans through our physical print distribution and our digital broadcasting. Veterans save this guide and look to it as a resource to start their search for the program that best fits their needs.
Thank You For Your Commitment to Veterans
Ready to advertise in the G.I. Jobs October issue?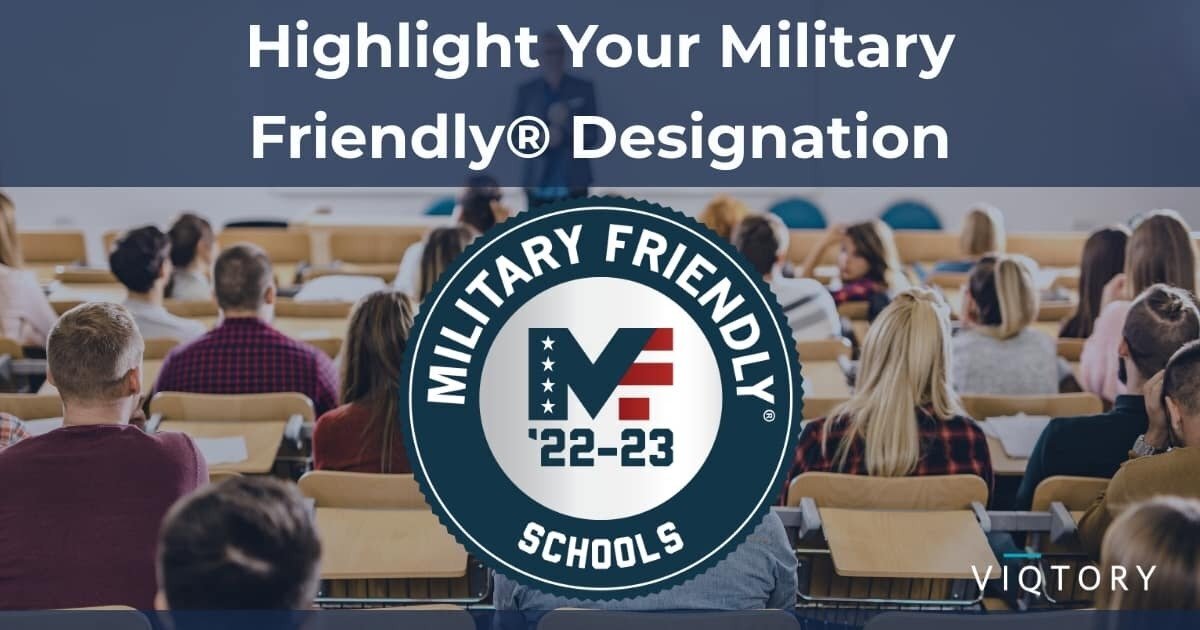 Featuring the Guide to Military Friendly® Schools, this issue is among the most popular and highly-anticipated of the year.
Distribution of 50,000 copies to 250+ military installations globally  
The digital version of the magazine is sent to over 50,000+ registered users. 
Shared on all social media platforms comprised of over 300,000+ followers
Archived on the GI Jobs platform where over 1.5 million unique viewers visit annually.